Example of our Plates
Monday, November 28, 2005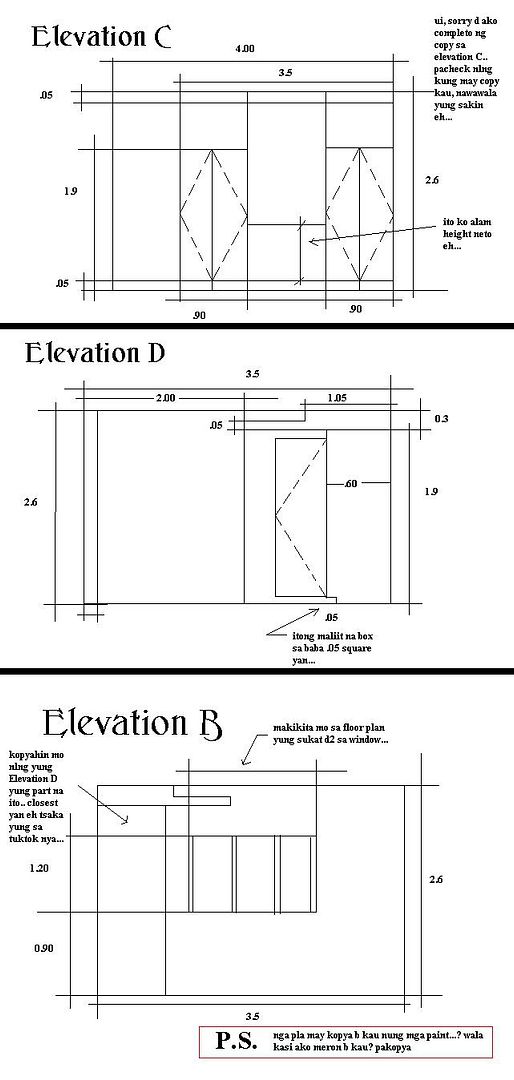 this picture is for my friend... but i also don't know some of the sizes there...
looks easy right? but your wrong...
we must research on the sizes, thickness etc. especially the closet there
anyway haven't finished my plates so i got to go... bye!
posted by Sinklaire @ 11/28/2005 11:03:00 AM


Busy!!!
Saturday, November 26, 2005
oh! about the Mapua on Sale... we didn't do much there we just stayed outside the chapel(i'm a member of Youth for Christ).. as we(me and shiela)stayed there... we just chat along with kuya Little, Doie and JB... oh and also kuya Ian.. anyway at 12 we got to see Ella.. then we went at room NW303, 'coz we'll be there for a seminar.. but we didn't make it 'coz we ate lunch first... I REALLY WANT TO SEE IT!! but because of them we didn't got there on time..GRRR!! after that we just look around the exhibit in our AR-ID building... hmmm... we also went infront of the main building for us to get stamped for the cultural dance which would be held there at 3pm, but 30 minutes have past it haven't started yet so i decided to go home and wait for my bestfriend to arrive at our house...
my bestfriend went here at my house... i helped her do her perspective.. i have so many complains about her plate because i'm not sure about the size that was given to her... well anyway i finished it before 9pm but i still have a homework, that's the reason why i have to go out of the house and print it... because we don't have a colored in here... i went home by 9:30pm and strightly went to bed... to tiring that day...
uhmmm today no good things happened.... i was late in our English class!! but i wasn't mark late... she gave us extra 15 minutes... i got there at 9:10am! safe!! hehe anyway i went home early after i ate lunch... i was supposed to help my classmate about our plates... but i am already here.. they won't expect me to go back to school aren't they?? well i just told her to go online tonight at 6pm so that i'll be able to send her the Elevations that she needed...
*yawn* to many things have happened... but the time is moving so fast! i haven't done any of my plates because of those who people who needed me.. well i'll do it now so bye for now...
posted by Sinklaire @ 11/26/2005 02:39:00 PM


Mapua on Sale !!!
Friday, November 25, 2005
Mapua will be having an event today...
Mapua on Sale!!!
anyway i'll go to school at 10am, i don't know what i'll be doing there..
there will be booth, seminars, concert there... but i'm kinda not interested because of the band who will be there... if i'm not wrong the bands are...
-Cueshe
-Mayonnaise (spellingXD)
-Orange and Lemon
-i can't remember the other one.. but all in all there are 4 bands...
well for now.. i'm still sleepy.. but i'm listineng to some music that i've downloaded from kazaa... hehehe
oh! another thing i bought a package.. there are 4 package
Package M which cost 375
Package I which cost 275(not sure about the price)
Package T which cost 175
Package P which ONLY cost 80
i bought Package T which already has these following items...
MOS T-shirt
MOS CD
MOS passport
MOS ticket
MOS pins
hmm... i can't remember if these are all the items... but i'm sure all these items are on Package T...
anyway i'll be preparing for school now...
i hope i could see Emma now.. she didn't shoe to me yesterday....
bye!
posted by Sinklaire @ 11/25/2005 07:20:00 AM


Remembering the days
Thursday, November 24, 2005
hmm.. since i haven't post for so many days already i'll just put them together.. bwahahah
anyway..in our AR(designing) class... uhmm we didn't do much, as usual we just draw and draw.. it was kind of boring yet i'm eager to finish it up before dismissal since my dismissal time is 7:30pm every monday and 6pm every wednesday and friday.. so there i was drawing a perspective, section, elevations, etc.. my friend then ask my if he could borrow my cellphone.. so i agreed and lend him for a while... he then opens my media player and played some music... then after a few minutes he ask me if i'm a
rockista
... WHAT THE?!! do i look like one? but i'm not sure if i'm becoming to be like a
rockista
because of the type of music that i like... well anyway i just smiled as i look at him.. then i continued on working at my plate...
the next day... my brother introduce to me a new song that i'ved never heard yet... the song is "Sandalan by 6 cycle mind" the song was great i begin to like it even if i only heard it for once.. then i decided to download Kazaa... hehehe so that i could have an mp3 of that songs and the others songs that i like... which are also at my cellphone...
these songs that i'ved downloaded are...
1. Sandalan by 6 cycle mind
2. Kahit pa by hale
3. Wake me when september ends by Green day
4. kisapmata by rivermaya
5. I'm still here by Johnny Rzeznik
6. Pinoy ako by orange and lemons
well... is this songs the proof that i'm a rocker.. anyone tell me! is he true??...enough about that...
uhmm... oh yeah last night i was sleeping not wearing my pajamas.. which caused me to have so many red spots on my legs... grrr!! i hate MOSQUITOS!!!! if you know what i mean..
hehe... another story... yesterday.. my professor in AR returned our plates.. the plate which has the design of the bedroom.. i was there at the back of the class.. talking and talking then my classmates always tell me... "JENI BALIW!!!", "JENI MAY TOPAK", "JENI ADIK NANAMAN!!" oh! what a nice compliment for me.. but it's true i changed alot... my shyness is diminishing... bwahahah diminishing??
basta! nawawala na.. nagiging WALANG HIYA na KO!!!!!
.... so there i was at the back.. while our professor is calling every student just for him to comment on their design, i was not worrying if what comment would he tell me... after a few minutes my classmate Gerson told me that my plate was there in front of the class and was posted at the wall.. i didn't believe him so i just laugh... and when my friend Nikki was called she told my after she was called that it's true that my plate is THERE IN FRONT!!! WAAAAAAAA!!!
a shocking moment for me...
hehehe
oh! there's another thing... my professor's middle name is also "Uy" waaaaa!!! this is not true!! of all the people!!... that's the reason why some of my classmate thinks that i'm a teacher's apple of the eye!! waaa that is the thing that i hate most!!
well.. here's another thing.. before we were dismissed yesterday (wednesday) my mother asked me if we are already dismissed, then i told her that we weren't yet... so she told me to wait and eat dinner if they're are there yet.. so my friends together with kuya RJ, we ate at the stall(spelling) beside the school.. we ate noodles and kwek kwek
(i don't know the spelling)
... anyway after eating we stayed infront of McDonalds.. we talked for a while then here comes my parents to fetch me up... hehehe
i remember that day it was sunday.. we have an NSTP that day but since our professor is absent we went to SM manila.. we went to Tokyo Kids store..
SALE sya!!!
but i don't have too mush money so i just look around..XD after that we ate then look around, then decided to watch a movie.. my friend Jerald asked me if i have a 100 peso bill...(wala kasi siyang barya.. buong 500 pera nya) so i told him that i have.. he then asked me if i'll be the one to buy his ticket for now (he will return it after) because we will watch the Harry Potter: Goblet of Fire, then i agreed... after we watched we went home...
hmm... i can't remember other things that have happened.. but i can still remember that yesterday Jerald and Nikki borrowed a 100php each from me... i just want to ask... do i look like a BANK?!?!?
that's it for now... sorry for my grammar.. hehehe ciao for now!
posted by Sinklaire @ 11/24/2005 05:26:00 PM


Without a Phone for a day
Tuesday, November 15, 2005
a day without my phone... hahaha pinahiram ko kasi kay JB.. eh kasi naman hinihiram eh... anyway yun nga kahapon (november 14 2005 - monday)ko pinahiram... eh hindi niya nabigay yung sim ko eh di ayun! problemado ako dahil baka tumatawag ang aking parents... mga before 8pm ko na nakuha yung sim.. swerte! hindi alam nila mama na pinahiram ko yung fone....
then november 15 sinoli na nya sakin... waaaaaaa i miss my phone... hehehe anyway one day lang naman kaya ok lang...
posted by Sinklaire @ 11/15/2005 05:13:00 PM


The Book
Saturday, November 05, 2005
i bought this book awhile ago it is entitled "The Magicians Guild" well i like the title... i haven't read it yet... i'm hoping that it would be a nice book..XD anyway byye..again..XD ciao!
posted by Sinklaire @ 11/05/2005 08:32:00 PM


I KINDA HATE THIS DAY!!!!

BECAUSE OF...............
1st...
my phone, can't recieve incoming text... now i have to call all my friends if i need something to them...grrr!!
2nd...
my professor in english didn't come...
bwiset xa sana d na lang ako pumasok ngayong araw na to!!! kasi wala rin kaming pasok sa Filipino class...
what a waste of time... grrr!
3rd...
and again i can't go to nicole's house because my mother and I went to SM sucat...
hmmm ang masasabi ko sa SM sucat walang pinagbago... pero malapit na matapos yung extension niya....
hmmmm let me guess... it's raining.....
yap! its raining!! heheh i can feel the cold wind....
anyway... gotta go... ciao!
posted by Sinklaire @ 11/05/2005 07:55:00 PM


Happy! shalalala....
Wednesday, November 02, 2005
i don't know why... but i'm happy today.. but i'm kinda worried coz i don't have yet my homework in filipino... waaaaa were could i find that
nobela!!!
about
"Urbana at Feliza"
i'm getting irritated... hahaha but still i'm happy...
hmmm why is that?!?!
anyway... i'm really happy today... i think the reasons is that my professor in AR praised my design(living room) and potential in drawing... i don't know if that really is the reason... but i won't bother to think of it now...
i'm really worried at my homework... waaaaaa!!!!!!
posted by Sinklaire @ 11/02/2005 08:01:00 PM